after a tiresome morning of rambling about multiliteracies and the new lon.don group, i tore myself away from the
green
machine and trotted into the kitchen where the mother was rolling fondant and crafting sugar flowers. it's been quite a while since i whipped something up, i told the mister the night before. so today, i was determined to make something. something easy.
i went into ovenhaven's archive knowing that something would be easy enough for me to do. and i found the apple-cinnamon bread/cake that promised to be moist and fluffy.
so here goes,
apple-cinnamon (cup) cake
because i love how easy it is to wolf them down without the hassle of cutting them up.
by ovenhaven
ingredients:
1 2/3 cups flour
3/4 cup sugar
1 tsp cinnamon
1 1/2 tsp baking powder
3/4 tsp salt
1 1/2 cups chopped unpeeled apples (1-2)
1/2 cup vegetable oil
1/2 cup milk
2 eggs
topping
1 tbsp sugar
1/4 tsp cinnamon
Preheat oven to 180C.
Mix all dry ingredients, except topping, in a large bowl.
In another bowl, mix all the wet ingredients. Mix in dry ingredients.
Scoop into cupcake cakes. Mix topping ingredients and sprinkle on top.
You may wish to place sliced apples on top of the batter.
Bake for 35 - 45 minutes or until toothpick inserted in center comes out clean.
Cool 10 minutes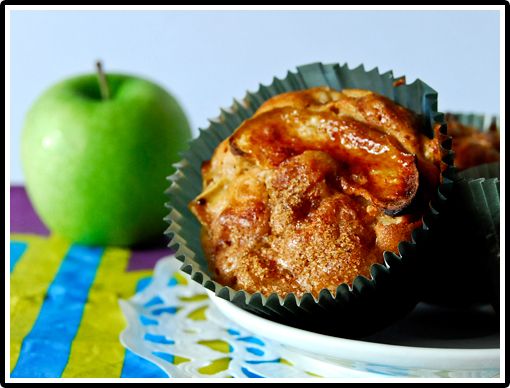 did you think i waited 10 long and painful minutes to sink my teeth into those warm apple cakes? i couldn't wait any longer. the scent of the baked apples wafting throughout the house had me lingering in and out of the kitchen, waiting for the timer to ring.
now back to the green machine.