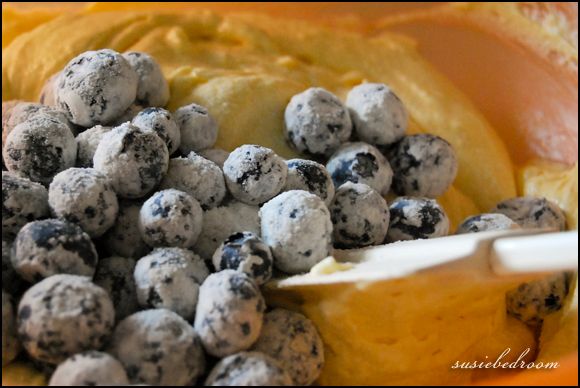 what's
blue
and
juicy
when mixed with the batter will yield delightable mini cakes?
i dropped (
not accidentally, of course
) a punnet of blueberries into the supermarket trolley when the parents dragged me to the monthly grocery shopping yesterday. doesn't the sight of blueberries just make you want to squash them with your fingers? not knowing what to do with the juicy blueberries , i browsed through the internet, clicking through my favourite bakesites -
taste.spotting, food.gawker, pioneer.woman
, to name a few - in search for something simple to add my blueberries into. i was hopping from pancakes, to muffins, to cheescake (
did i say i dropped a pack of cream cheese too?
), to pound cake, to breadloaf, to smoothie.
many many links and written recipes later, this is what i decided to whip up:
blueberry butter cake
recipe from
kitchensnippets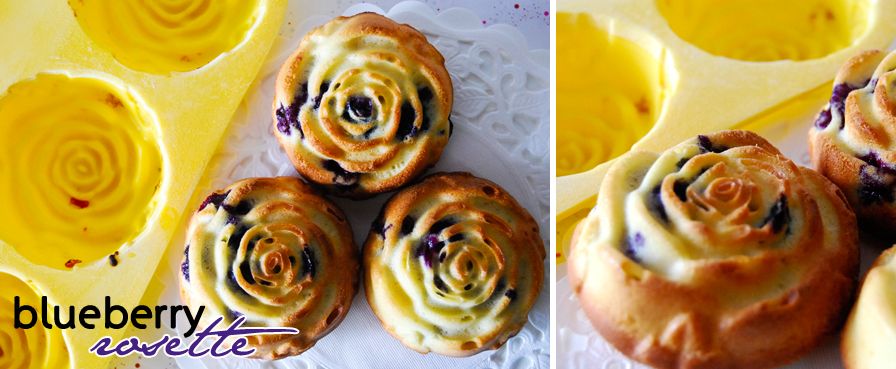 1 cup butter (225g)
1 1/4 cup sugar
5 eggs
2 1/2 cup flour
1/2 cup milk
1 tsp baking powder
1/2 tsp salt
1 tsp vanilla
2 cups fresh/frozen blueberries (tossed with 1 tbsp flour)
Preheat oven to 180C. Butter and prepare a cake pan.
(Here, i used rosette and heart-shaped silicone bake ware we gifted mum for mother's day.)
Sift the flour, baking powder and salt into a bowl. Set aside.
In a mixer, beat the butter and sugar until light and fluffy. Beat in the eggs one at a time, followed by vanilla.
Then slowly beat in flour in 3 additions, alternately with milk.
Lastly, fold in the blueberries that have been dredged in flour.
Pour batter into prepared pan.
Bake for 1 hour*
(if you're using large cake pans)
.
*note:
mine was ready in 20 minutes
i halved the recipe above for fear of baking too much. besides, i wasn't really sure of how it'll turn out or how the household would take to these cakes. the halved batter yielded
6 rosettes
and
7 hearts
.
i baked them slightly before noon. lo and behold, three hours later, there's only 2 of each left.
with that, i've clinched a christmas order for these blueberry treats. hohoho!